MIXED FEEDING GUIDE FOR DOG FOOD & CAT FOOD
ADD VARIETY AND FLAVOUR TO YOUR PET'S DIET
A quick guide to mixed feeding
Our pets are just like us and can get a little bored with the same food day in and day out. Many of us want to let our furry friends try different wet, chilled or dry pet foods. But with so many options and formats of pet food available, it can be hard to know exactly what to feed your pet, and which products offer the best flavour and goodness.
While every pet is different and will enjoy different flavours and combinations, here are a few helpful tips on how to keep your pet healthy and happy when mixed feeding.
­­­­
And if your pet is new to chilled or wet pet food, make sure you introduce it into their diet gradually over the course of a week. It's recommended you start out by replacing 25% of your pet's normal food, then move to 50%, then 75%, over the week for optimal digestion. 
DRY FOOD WITH A CHILLED TOPPER
All of Farmers Market's dry food and our chilled pet food products are designed as complete, balanced meals - so you can feed them to your dog or cat every day. However, to create varied flavour and some interesting texture, you may wish to dice one of our chilled rolls over your pet's dry food. Simply replace a portion of the dry food with a portion of chilled food so you don't overdo the portion size.
DRY DOG FOOD
CHILLED DOG FOOD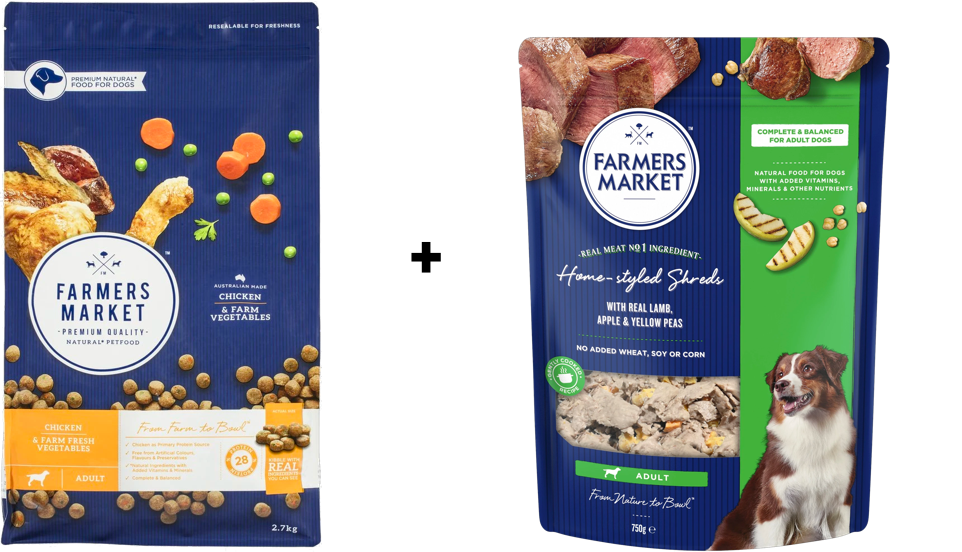 WET AND DRY FOOD MIX
Our ready-to-serve wet food range is always popular with pets and have a great, meaty flavour they love. However, to add variety, or to make a ready-to-go meal last longer, you may wish to substitute half of the serving with dry food. Simply follow the recommended feeding guidelines on the packs to make sure your pet is fed the right amount.
DRY DOG FOOD
WET DOG FOOD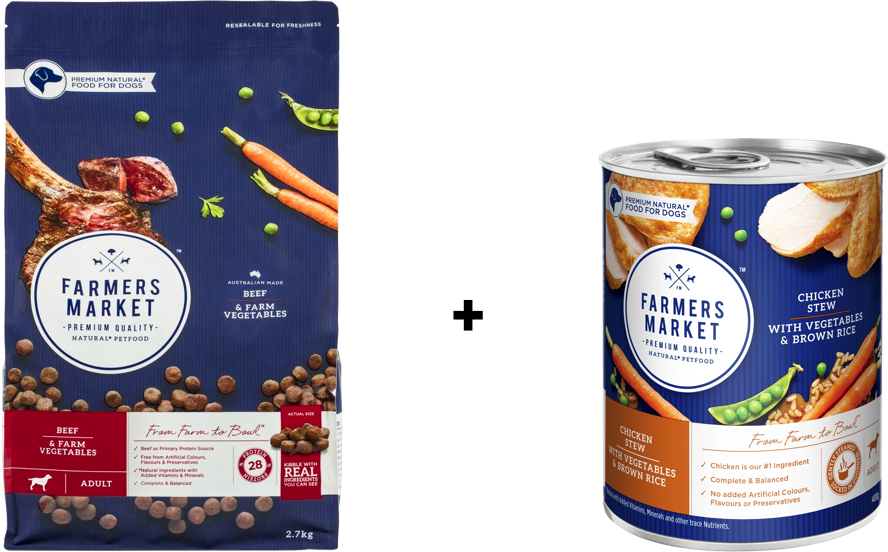 HOME-STYLE FOOD READY TO BE SERVED
Every Farmers Market product has been lovingly crafted in our kitchen and is ready to be served to your pet. Our dry food can simply be poured into your pet's bowl in keeping with the feeding guide on the pack, and doesn't need to be refrigerated, making it a great option when travelling or out and about with your pet. Our wet food must be refrigerated upon opening but is also completely ready to serve. Our chilled food can be served direct from the fridge. All carefully prepared by us to make life easier for you, and extra tasty for your little friend.